We are proud to partner with PlanetFWD to understand our climate impact and achieve carbon neutrality.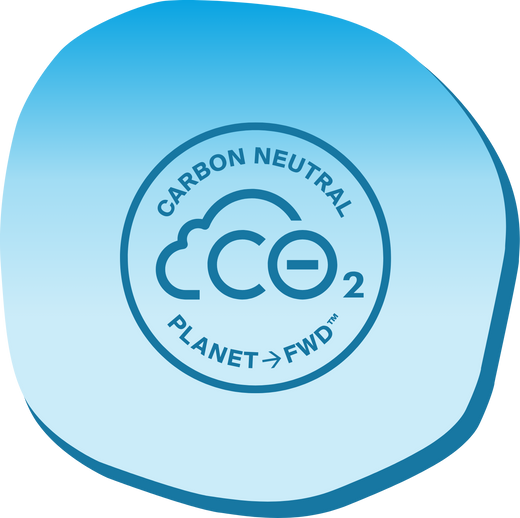 Kiki Milk is a carbon neutral beverage, and we're on a path to net zero.
The

Path

to

Carbon

Neutrality
Carbon neutral means that any CO2 released into the atmosphere from our activities is balanced by an equivalent amount being removed.

We conducted a full product cycle assessment (LCA) for true carbon offsetting.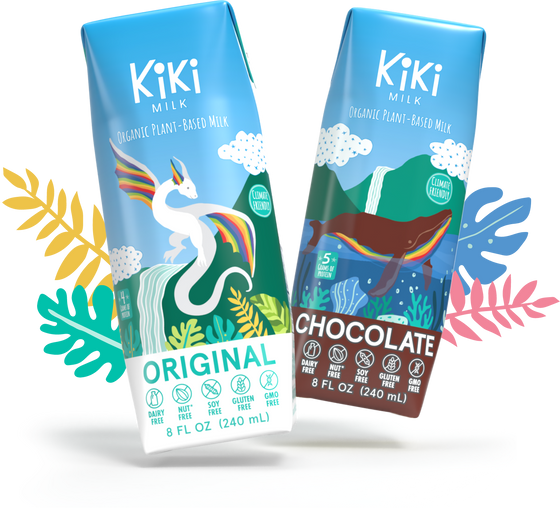 Kiki Milk's carbon footprint

We offset unavoidable emissions with high quality carbon offset credits.
We purchased credits with Tradewater to offset unavoidable emissions. Tradewater collects and responsibly destroys refrigerants. Refrigerants are ozone-depleting chemicals that emit GHGs 10x more potent than carbon. There was no process put in place to destroy HFCs when they were banned in the 90s, and the 90 billion metric tons remaining in cooling systems around the globe will leak into the environment, hugely impacting climate change.
We chose Tradewater because there's strong evidence that they result in real, additional, and permanent reduction of GHG emissions.
We developed a reduction plan and have committed to ongoing emissions reductions.
What

Factors

Make

Kiki

Milk

Climate-Friendly? Kiki Milk is pursuing socially responsible, ethical sourcing across our supply chain. We have begun focusing on our highest risk ingredients first. Kiki Milk partnered with Planet FWD to do a deep dive on our cocoa supplier.

Climate-Friendly

Ingredients
Our ingredients have lower emissions and other climate-friendly characteristics compared to similar nutrient sources. We work with planet-forward ingredients and choose suppliers that have demonstrated climate-friendly and regenerative growing practices where possible. This includes suppliers that are using diverse crops to promote soil health and climate resilience.

Shelf-Stable

Processing

&

Packaging
Kiki Milk Tetra Pak aseptic cartons do not require refrigeration and are beneficial for preventing food waste. Our Tetra Pak cartons keep Kiki Milk safe and flavorful for up to 12 months without refrigeration of preservatives.
Emissions from distribution are mainly driven by the transportation of goods, however the energy consumed at the warehouse or retail locations is also an important factor, especially when refrigeration is involved. We've avoided these emissions by using aseptic technology.
Steuben's aseptic process ensures that both food and packaging materials are free of harmful bacteria when food is packaged. As a result, Kiki Milk retains it's color, texture, taste and nutrition on the shelf.
Producing

in

a

Facility

that

Uses

Renewable

Energy
Steuben Foods, our copacker based near Buffalo, is on the Niagara Power Grid. By working with a copacker that uses renewable energy, we are part of the solution.
Electricity production is 25% of US GHG emissions and switching to renewable energy is one of our biggest levers for tackling climate change.
Partnerships

to

Support

a

Climate-Resilient

Food

System
While we look for suppliers that support farmer economic stability and more climate-friendly growing practices, we also directly support organizations that are doing this work. A climate-resilient food system goes beyond our own supply chain.
In collaboration with our nonprofit partner, Farmer's Footprint, we're dedicated to restoring harmony in our food system and ensuring climate-resilience for generations to come by discovering ways we can partner with farmers who are using climate-friendly and regenerative growing practices to improve soil health.
Roughly 60% of the US population has access to recycling programs that accept Tetra Pak cartons. Tetra Pak is accelerating the development of circular packaging materials and has committed to reach net zero GHG emissions in its global operations by 2030. As a brand using Tetra Pak packaging, we are advocating for the importance of these changes.
Kiki Milk Tetra Pak cartons are made with layers of lightweight material, including paperboard, polymers and aluminum. The paper is separated and fully recyclable. The aluminum and polyethylene are recycled into a compound called polyAl, but there is no market for this recycled material. Therefore, the packaging itself is not designed for circularity since polyAl cannot be used to create new Tetra Paks.

To secure a healthy future where we can all thrive, we need to reduce food-related GHG emissions by 38% from 2015 levels.
Kiki Milk is proud to be a carbon neutral product.

Carbon Assessment Deep Dive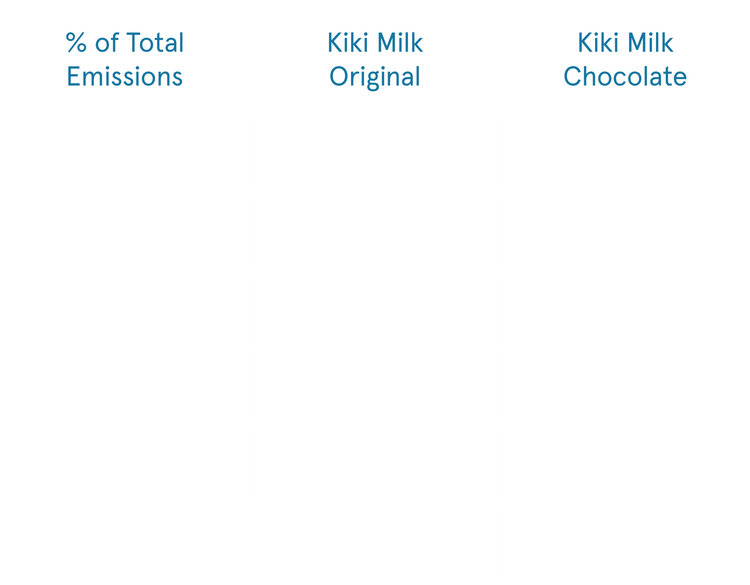 How

We're

Addressing

Sustainability

in

Our

Own

Supply

Chain