It's time to unleash the magic of macadamia nuts

With ORGANIC macadamia nuts, brazil nuts and cashews, this is a decadent plant milk like no other
Nuts and seeds are rich with protein, omega 3s, calcium, selenium, copper, and magnesium
Third-party lab tested for pesticides and heavy metals, is glyphosate free, and contains zero additives
Tastes like paradise, nourishes like mother nature
Mac Nut's delectably delicious combination of organic macadamia nuts, cashews and brazil nuts (AKA our terrific trio) – along with sprouted pumpkin seeds, oats, coconut, coconut sugar and Aquamin™ – makes for a velvety and nutritionally-diverse milk
Rich in calcium for strong bones
35mg of magnesium for cognitive function
Great source of selenium for immune and thyroid support
Nuts and seeds are high in antioxidants to fight inflammation 
Nutrition
Serving Size 8oz
Saturated Fat

1g

Trans Fat

0g

Dietary Fiber

2g

Total Sugars

4g

Vitamin D

0mcg

Calcium

228mg

Iron

1mg

Potassium

100mg
Made for kids, enjoyed by all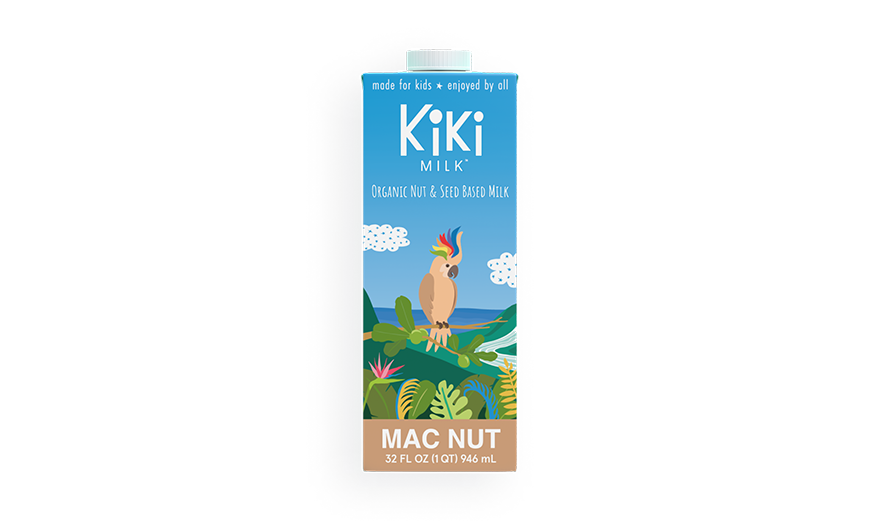 Delicious,
creamy taste No fillers, oils, or gums Carbon neutral ONLY whole food ingredients Glyphosate Residue Free Certified Shelf stable Certified Organic FAQ
Is Mac Nut made on the same production line as Original & Chocolate Kiki Milk?

Kiki Milk is made in a peanut-free facility. We do, however, share our line with products that contain: Soy, Milk, Wheat, Egg, Fish, Tree Nut, Sunflower, Sulfites, Sesame, Celery, and Tomatoes.⁠

⁠That being said, we have stringent Quality Assurance procedures in place that require cleaning 🧼, inspection 🔍️, and testing 🧪 of the equipment to ensure that any presence of a big 8 allergen is removed from our production lines ✨BEFORE✨ processing our product.⁠

⁠We also take it a step further ✅ and test our final product for allergens to confirm and verify that our procedures are operating as designed and that all of our claims are accurate 💯.⁠

⁠If you have any specific questions or concerns, do not hesitate to reach out to us at kikimilk@plantbaby.co.

How long does Mac Nut Kiki Milk stay fresh?

Thanks to our shelf-stable packaging, unopened Kiki Milk will keep safe and flavorful for at least 12 months (or by the "Best if Used By" date) without refrigeration or preservatives! This means you can store it in your pantry or even take it with you when traveling.

However, once you are ready to enjoy Mac Nut, we highly recommend drinking it cold for the best experience. Simply add a few cartons (or the entire case 😉) of Kiki Milk into your fridge for at least 2 hours before consuming. Once opened, Mac Nut Kiki Milk stays fresh for 10-14 days in the fridge.

Do you offer Mac Nut samples?

Not yet, but we are looking to make single 32oz cartons available for sampling soon! 🤗
I love this and so does my kid! Just wish we could buy it in a larger carton!
My little boy loves Kiki it's amazing and best of all healthy and safe
I love the clean ingredients, and I feel good giving it to my grandchildren
We want to see how Kiki fuels your play! Tag #fuelyourplay with #KikiMilk.
About our impact partners
PlantBaby proudly supports the following organizations.